About Us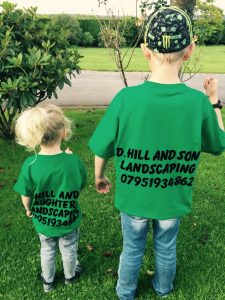 Hello and welcome to our new website!
D Hill & Son are a family business, my name is David and I am the D in D Hill & Son.   I started in the building and landscaping trade 22 years ago after finishing school at 16, I attended various building and landscaping courses at college. When I finished college at 18 I went to work for my grandfather who was a general builder, he took me under his wing and then the real learning started.
After nearly 3 years with my grandfather at the age of 21 I started in business on my own, and from then to now I haven't looked back, the building and landscaping trade is something I really enjoy and have a passion for. We take pride in our work and our main aim is always to please, customer satisfaction is very high up on our list.  We can design maintain and build a new garden or extension for you, from start to finish.  Our work is carried out to the highest standards, by time served tradesmen.
To show confidence in the workmanship of D Hill & Son all work carries a guarantee and customer satisfaction is a priority.  We are there for you at the beginning of the job and also when we have finished.
Thank you for reading.
David Hill
D Hill & Son